No Return Ticket — Leg One
No Return Ticket - Leg One is the compelling true saga of Endymion, and her captain, a successful businessman, who chucked away the glitz of California to live a dream shared by millions - sailing to the jaw-dropping beauty of the South Pacific with only the wind and whim guiding the journey.
But dreams sometimes must step aside for reality. On the eve of casting off, thieves stole Skip's original yacht Love Story, and set it ablaze on a desolate Mexican beach. Tracking the thieves, the author captured them at gunpoint in a bar, landing himself in the same Mexican jail.
Outward bound across the Pacific aboard his new ketch Endymion, the crew is forced to play chicken with a rogue freighter. They're knocked down mid-ocean, unfortunately sail into an active military coup, and crossing the Tasman Sea from New Caledonia to Australia manage to survive the most violent storm in the last 100 years.
It's an exciting read. You will believe you're on deck with the skipper, experiencing the freedom, joy and challenges that true ocean passages can deliver.
Price: $16.98 USD - FREE SHIPPING and signed by the author when purchased from the website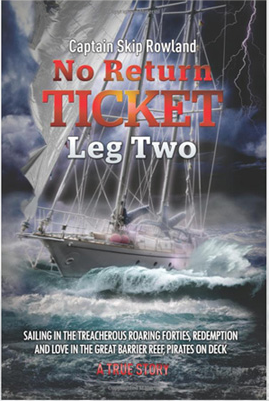 No Return Ticket - Leg Two
No Return Ticket - Leg Two finds Skip with his mate ( and ships nurse) Denise, racing with the Tall Ships north from Tasmania in the "roaring forties," during Australia's Bi-Centennary. They are again tested in Queensland, being caught in serious flooding of the Clarence river. Romance blossoms in th Great Barrier Reef and the Whitsunday Islands. Granted a rare cruising permit Skip & Denise spend a year cruising Indonesia, including uninhabited islands, Bali and a spiritual visit to out of bounds Krakatoa. Pirates attack and get on deck north of Singapore in the Malacca Strait. However it's an unexpected event in Thailand that forever bonds Captain Skip and his lovely crew Denise.
This "living the dream" saga is for adveturers, romantics, sailors and "wannabe" cruisers who like to live on the edge. You will not be disappointed.
Price: $16.98 USD - FREE SHIPPING and signed by the author when purchased from the website