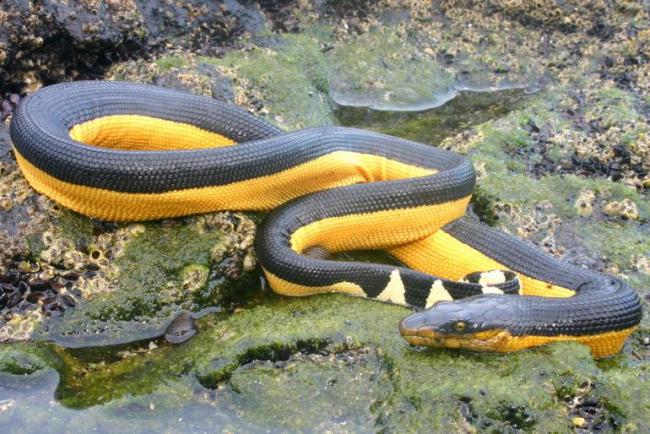 There were several times we had face to face meetings with sea snakes. I'll post the next one shortly. Here's the first one, actually a freshwater lake experience.
The Marquesas heat was unbearable, stifling days with no wind….tooo many of them. We lay at anchor off a tropical beach with a rocky outcrop to the North and a forest of palm trees to the South. Directly before us lay a small native village. The inhabitants hunted wild goats, were serious fishermen, and had eaten human flesh prior to French missionaries arriving shortly after World War Two. There was no evidence of missionaries. Wonder what else they ate?
We seriously wanted a fresh water shower - something better than our weak-stream deck shower or an ephemeral afternoon cloudburst. Using sign language and maps drawn in the sand we were told to follow a dry creek bed up a mountain to a lake with an ever flowing waterfall. Paradise perhaps?
We trekked out. Cursing, sweating we passed two young natives with huge machetes, busily cutting coconuts from palms. A wild boar as frighted to see us as we were to see it crossed our path unexpectedly. Two hours later we reached the lake. and carefully marking our trail. It took nearly two hours to reach the lake.
The lake was lovely. Maybe a quarter mile square and covered with blooming Lilly pads giving it a surrealistic look. As advertised there was a waterfall but with only a trickle of water falling from the rocks above us.
"Hell…let's go" shouted Kyle (a crew member). We all started stripping.
"I'M in" said my son Tony. Kyle was set to dive in when a lily pad moved directly in front of him and a seven foot yellow and black sea snake swam lazily across our view.
"Take this" yelled Tony as he heaved a rock in the snake's general direction. More rocks followed but no sign of the snake. We gave up the swim and trekked down the mountain, through the mosquito forest and past the staring eyes of villagers seeing us as sweaty on return as we were on departure.
Tony's summation "Well….not everything in paradise is paradise."